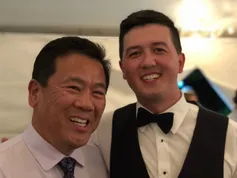 Dear valued patients and friends:
I am writing to share with you some very exciting news concerning our dental practice. I say "our" because it not only includes me and the staff but you as my patients and friends as well. I will be transitioning my practice to someone I trust to take care of you all.
I would like to introduce to you my nephew, Dr. Anthony (Tony) Don. As most of you know, I come from a long line of dental professionals. Tony is a 3rd generation dentist and is named after his grandfather, Dr. Anthony P. Don, who started his dental practice in the 1950's here in Tucson. His father is Dr. Damon Don, a Tucson periodontist, and his mother is Dr. Kacy LaFleur Don, a Tucson general dentist. Tony attended dental school at the University of Oklahoma where he met his wife, Nicolette, who is a Registered Nurse. After practicing in Oklahoma, Tony has chosen to move back to Tucson to continue the family legacy of dentistry.
I have chosen to retire earlier than planned because I now have someone I trust and have confidence in to take over the practice and treat my patients and staff with excellence. I felt if I did not take this opportunity, I could have possibly transferred the care of my patients to someone I didn't know. So, I decided to jump at the chance at getting Tony to succeed with my practice.
To Tony's credit, he would like for me to stay for a transition period to learn from my experience and to introduce him to my valued patients. Cindy, Rose, Kelly, Jen and Ashley will all be here to help him provide you with the level of personalized service that you have come to expect from our office. Tony will also be my dentist and I trust him completely with my own care and that of my family.
I would like to thank you all for the kindness, loyalty and trust throughout my 37 years in practice. I hope that you will treat Tony as kindly as you have treated me. I would like to share with all of you a quote was passed on to me from a high school teacher: "Cherish the Past, Live for Today, Dream for Tomorrow."
Thanks again!
Sincerely,
Dr. Phillip Don, DDS
---
OFFICE HOURS
Monday - Thursday 8:00 am - 5:00 pm
Office closed noon - 1:00 for lunch